Toyota Oakdale Theatre | Wallingford, Connecticut
Arguably, one of the best Queen tribute bands, Almost Queen – A Tribute To Queen, comes to Toyota Oakdale Theatre on Saturday, October 7th 2023. Almost Queen is the most authentic Queen tribute show to take to the stage, since the days of the original band themselves. Comprising a four-piece band, Almost Queen delivers a live performance, showcasing the original Queens' signature four-part harmonies and intricate musical interludes. Appearing on stage in genuine costumes, Almost Queen recaptures the live energy and attention to detail needed, to deliver the ultimate Queen tribute experience. Grab some tickets and come on down to the Toyota Oakdale Theatre and experience the closest thing you could possibly get to the real deal!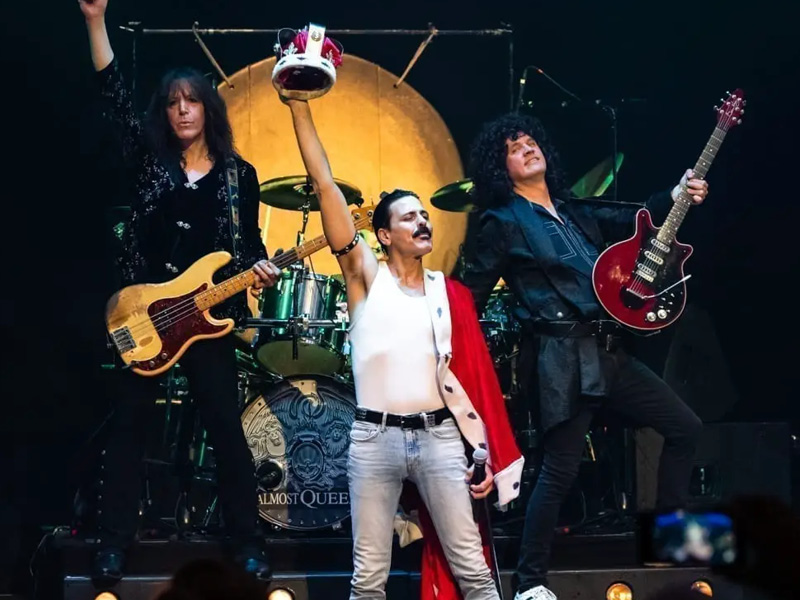 Queen is still regarded as one of the most popular rock and roll bands. so, if you want to hear the most authentic sound of an iconic band, you don't have to look far; it's just a matter of knowing which tribute band to turn to, and when there are over 75 Queen tribute bans worldwide, you don't have to look far. If you were to rank 20 of the best Queen tribute bands, Almost Queen comes in at number three!. And it's no surprise, that this absolutely fantastic tribute band has found the success it has. They have the vocals, the four-part harmony, and the unity of their music that is reminiscent of the original band we all know and love. This tribute band is both a tribute to Queen and a tribute to Freddie Mercury himself. The band members all strive to perfect Queen's unique showmanship and one-of-a-kind appearances, and if you didnt know any better, you could easily mistake them for the real thing!
Almost Queen, who bill their act as "THE most authentic Queen live show since the days of Queen themselves," comes from New York rather than England, keeping the heritage of Freddie Mercury and Queen alive in sound and vision. Many members of Almost Queen are more than just Queen fans; they are also serious performers. Freddie Mercury is played by Joseph Russo, Brian May is played by Steve Leonard, Roger Taylor is played by John Cappadona, and John Deacon is played by Randy Gregg.
The rise in popularity of pop music and tribute bands has resulted in a slew of unexpected and unanticipated developments, ranging from the legality of tribute bands to their touring and live performances. Queen's popularity will likely continue to rise into the 2020s and beyond. Even if some fans only know one song, it is undeniable that this significant rock band, and that their lead singer and songwriter, touched the lives of so many people in some way. Fortunately, there are numerous Queen cover bands that seek to recreate and relive the Queen experience. Some concentrate on the album's sound, while others concentrate on specific performances by the band. Some of these acts are good, while others are even better. But which of these Queen tribute acts truly bring it, with the look and musicians, singers, and performers capable of reproducing this band's ambitious catalog live? Yup, you got it, the one and only, Almost Queen – A Tribute To Queen!