Toyota Oakdale Theatre | Wallingford, Connecticut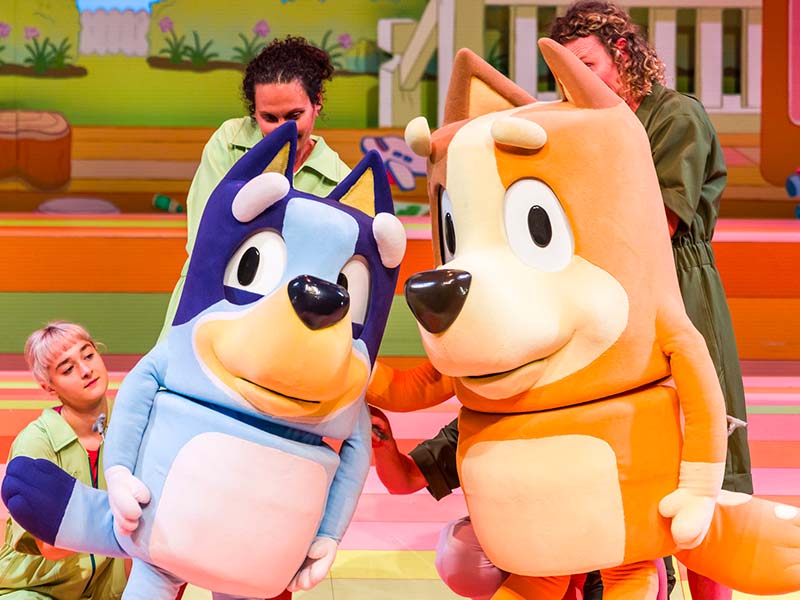 Imaginative play has never been this fantastic until the arrival of Bluey's Big Play! Explore the world of the Emmy Award-winning TV series Bluey as it conquers the big stage this 2023! Bluey's Big Play is a new musical adaptation that brings the world of Bluey to life! This year, the groundbreaking musical will take over countless cities in North America, including a coveted stop in Wallingford, Connecticut! On Saturday, 4th November 2023, you can bring your kids to see their favorite characters, such as Bluey himself, his sister Bingo, his mom Chilli, and his dad Bandit! Feast your eyes on their wonderful world as this remarkable production takes over the Toyota Oakdale Theatre! The musical will feature an all-new never-seen-before story by Bluey creator Joe Brumm plus an original score by show composer Joff Bush! If you want to bring your family to a fun and memorable, you better hurry and score a couple of tickets now!
When the kids' favorite animated TV series goes on stage, it's always the parents who are most excited! It's because shows like Bluey help develop children's imaginations! In this case, Bluey promotes imaginative play, which is very crucial in a child's brain development. Moreover, the show is just totally fun to watch! This 2023, Bluey's Big Play will feature a massive, groundbreaking production with impressive sets and very life-like puppets controlled by skilled and expressive puppeteers! The show had already received tons of fantastic reviews. The Guardian's critic complimented the show as having it all. "It's hard to imagine how Bluey's Big Play could go wrong: it has all of the ingredients that make the show so wonderful and a few extras too." Moreover, the writer continued that Bluey's Big Play gave an enjoyable and energetic performance. He also added that the show has "plenty of heart and smart explorations of concepts that are tricky to grapple with for both children and adults."
With a new story written by Bluey's creator Joe Brumm, the show is designed to entertain both adults and children. The show has also been praised for using an aesthetically pleasing palette for its set, replicating their life in Queensland. Moreover, the show's relatability has made it quite endearing to audiences across the world.
Bluey is an Australian TV series that premiered in 2018. The show's premise revolves around a blue heeler puppy, Bluey, who lives with his parents and his sister. Shortly after premiering in Australia's ABC Kids, the show has expanded its broadcast network to various countries, such as the U.S., Canada, the U.K., France, and many more. The series's central theme of a supportive family and contemporary parenting practices have earned Bluey numerous accolades, including two Logie Awards, an international Emmy Kids, Award, and many more. Moreover, critics and viewers have praised Bluey's dad Bandit for excellently depicting an excellent father figure.
Bluey's Big Play travels across the U.S. this 2023, and tickets are already moving fast! If you want to bring kids to the whimsical world of Bluey and his family. You can score tickets by clicking on the Get Tickets link!