Toyota Oakdale Theatre | Wallingford, Connecticut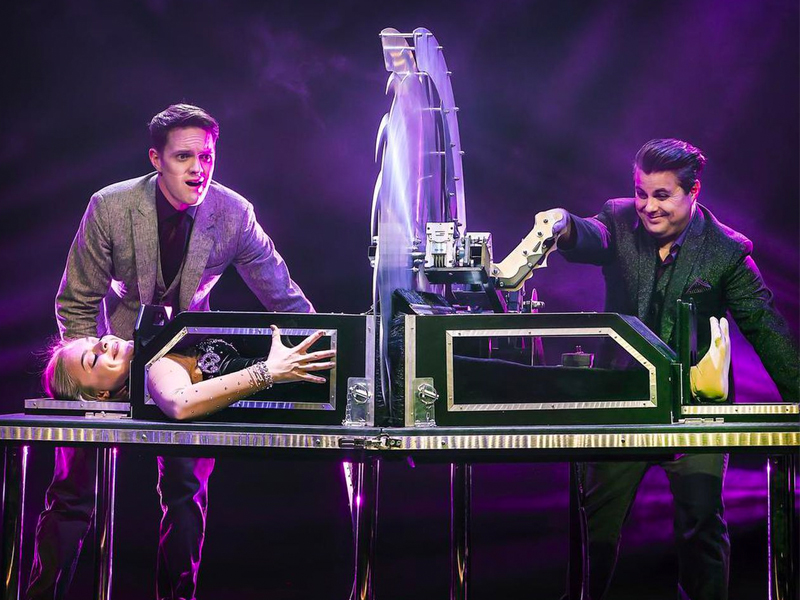 Welcome your December with a dash of magic from one of the world's most renowned groups of magicians! The famous Champions of Magic is bringing their "The Worldwide Wonders Tour" to Toyota Oakdale Theatre this December 2, and you are invited to witness a spectacle filled with heart-pounding illusions, death-defying stunts, and incredible tricks. Led by the famous duo Young and Strange, the show will delight magic lovers of all ages, so you can bring the entire family and immerse yourself in an evening of pyro cues and confetti canons. Completing the lineup of performers are hypnotist Alex McAleer, magician Hollie England, and escapologist Fernando Velasco. If you expect to be wowed and awed by some never-before-seen magic tricks and illusions, this show won't disappoint. You are in for a treat your entire family will enjoy. So be sure to book your tickets as early as today to reserve the best seats in the venue. Hit the "Get Tickets" link to start your purchase.
Champions of Magic is an internationally-renowned magic group known for elaborate stage performances that are guaranteed to blow audiences away. They've sold out shows across the globe, been featured on every major US TV network, and racked up over 50 million views online. The lineup consists of psychic illusionist Alex McAleer, master enchantress Hollie England, escape artist Fernando Velasco and the unstoppable duo Young and Strange. Their video "Young & Strange Take Las Vegas to Television" included the illusionists videobombing the background of a Live Sky News broadcast which went viral on the internet and had over 30 million views across various video-sharing networks in just a few days. While the performers in the show aren't necessarily household names, they bring their specialties together to create well-balanced, tightly-paced, thoroughly entertaining feats of magic.
The cast of the show has different stories to tell, each in their own inspiring and thrilling accord. The critically acclaimed duo Young & Strange started out with cardboard and tape in an attempt to create a Las Vegas-esque performance with the bit of money that they had. This caused them to possess original works of tricks and illusions. The combination of Richard Young and Sam Strange incorporates humor into their magic on a whole new level. In recent years their relentless development and innovation of spectacular illusions and live shows have landed them spots on prime-time television and the biggest stages around the world.
Combining contemporary mind reading with charm and quickwittedness is the mentalist and hypnotist Alex McAleer. Not only is McAleer a highly-anticipated sought-out illusionist, but he is also a successful writer in the magic world, having written several books on his own techniques and delivered lectures to psychology students, mentalists, and magicians at the prestigious Magic Circle. Next on the legendary lineup is the talented miracle-maker Hollie England, who makes the stage seem straight out of a fictional world. England makes you believe that everything is possible through the art of beauty and showmanship. The group wouldn't be complete without the escapologist Fernando Velasco. Taught by some of America's leading illusionists, Velasco is already the world's youngest to perform magic's most dangerous illusion, the Houdini Water Torture Cell.
The Champions of Magic are, more accurately, four magic shows in one — a worthwhile, breathtaking, and edge-of-your-seat thrilling experience. They'll be at the Toyota Oakdale Theatre this December 2nd to give you a Saturday that's truly worth to wait. Make sure to bring your friends and family because the show will not only be a spectacle of pyro cues and confetti canons but a suave ensemble of triumphant talents who perform heart-pounding, death-defying stunts and tricks. From stage-filling grand illusions to sharp wit and flair for stunning feats of prediction and bamboozlement, the show won't disappoint. Be sure to secure those tickets beforehand! Click the "Get Tickets" link now.