Toyota Oakdale Theatre | Wallingford, Connecticut
The Dark Desert Eagles are stoked to be touring throughout 2023 across various venues in the US, combining their talent and passion for The Eagles to create amazing concerts thar are unforgettable and truly astounding. You can join them on 05/20/2023 at the Toyota Oakdale Theatre, Wallingford, CT by booking your tickets. It is easy to do and there is a great selection of seats and prices, so don't miss out and secure them now. It will be a mesmerizing evening full of great music by musicians that appreciate the legacy of The Eagles, so join the Dark Desert Eagles for their 2023 tour and rock out with them.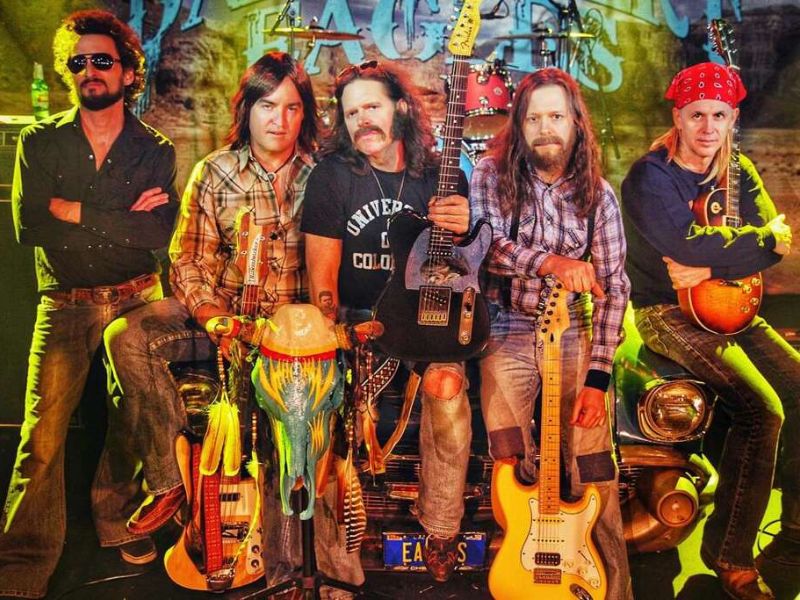 Since 2017 the Dark Desert Eagles have been building a reputation as THE greatest tribute band to one of the greatest rock 'n' roll bands there has ever been – The Eagles. After the passing of Glenn Frey in 2017, co-founder of The Eagles, Pat Badger set out to create a band that paid homage to the timeless repertoire and music of the band, as well as show his appreciation for their musicianship as a fan. Badger's name for the tribute band, Dark Desert Eagle cleverly combines the name of the original Eagles' name, but also pulls in two famous lyrics that EVERY Eagles fans knows from one of the greatest classics by the original band, 'Hotel California'. Joining Badger on the tribute ride is his former band member from Extreme, drummer Kevin Figueiredo, and together alongside their other tribute bandmates they create a stunning, live music experience that has fans singing along and enjoying some of the greatest hits of a generation. Now, you can experience the Dark Desert Eagles live by joining them on their 2023 tour at the Toyota Oakdale Theatre on Saturday the 20th of May. Buckle up for a concert that will be unforgettable and book your tickets now.