Toyota Oakdale Theatre | Wallingford, Connecticut
Get ready to swing into action with your friendly neighborhood Spiderman! Spiderman: Into the Spider-Verse Live in Concert is showing at the Toyota Oakdale Theatre on October 1, 2023! In collaboration with Sony Picture Animations, audiences in more than 60 places across the United States will be able to enjoy the well-loved action-packed movie with a live concert – featuring popular hits like Post Malone's "Sunflower" and "What's Up Danger?". The tour will bring to life Daniel Pemberton's outstanding soundtrack of the movie with compositions performed by a live orchestra, band, and scratch DJ. That's not all! The Broadway Sinfonietta, an orchestra with a majority of women of color and an all-female conductor, will join the tour and heighten the audio-visual experience. You definitely do not want to miss the chance to dive into the Spider-Verse like never before! Reserve your seats now before tickets run out!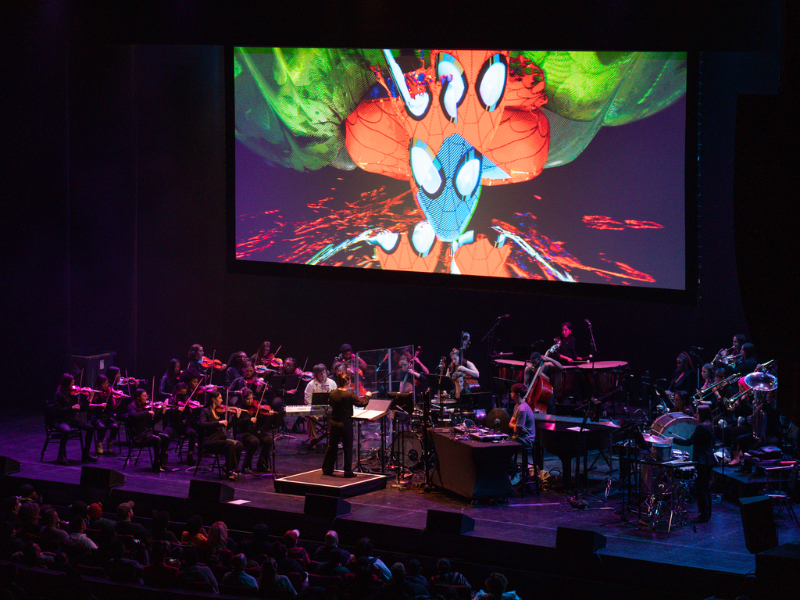 "Spider-Man: Into the Spider-Verse Live in Concert" swings into the Toyota Oakdale Theatre on Sunday, October 1, 2023. The event is produced by Senbla, a London-based company that is regarded for producing movie screenings wherein the soundtrack is performed live by an orchestra.
With the first-of-its-kind visual style, Phil Lord and Christopher Miller brought their skills to a novel vision of a new Spider-Man Universe. The film, Spider-Man: Into the Spider-Verse, introduces Miles Morales, a Brooklyn teenager, and the infinite possibilities of the Spider-Verse where multiple people can don the mask.
Artists including Post Malone, Lil Wayne, Jaden Smith, and Nicki Minaj all contributed songs to the score, written by Emmy-winner and original music composer Daniel Pemberton. The hip-hop-based soundtrack creates a sonic atmosphere that is intertwined with the deep narrative of the movie.
In 2014, Pemberton was formerly given the title of "Discovery of the Year" at the World Soundtrack Awards. He is a multi-Golden Globe, OSCAR, BAFTA, and Ivor Novello Award-winning composer who is frequently referred to as one of the most dynamic and original voices working in contemporary film scoring today.
"I'm always trying to do things that are unconventional and not based around traditional setups, and they're always impossible to do live." Pemberton shares via a Zoom call from London. "I'd always sort of resigned myself to the fact that I was probably never going to be able to do live concerts."
Interestingly, one of the technical difficulties in recording the piece is being able to combine scratch turntablism into an orchestral recording. In a movie theater's surround sound, this probably wouldn't have sounded all that great. Instead, Pemberton used cutting-edge Serato DJ software along with DJ Blakey, a talented London turntablist, to electronically spin and scratch the uncompressed orchestral recording.
The Toyota Oakdale Theater is one of the most in-demand entertainment venues located in Wallingford, Connecticut. Built during the early 1950s, the venue was originally known as Oakdale Musical Theatre, famous for holding a variety of live performances, concerts, and other live events.
Experience Miles Morales' story on a whole new classical level and reserve your tickets now!