Toyota Oakdale Theatre Information
Founded by Ben Segal in 1954, the theatre started out as a 1400-seat open-air theatre in the round. In its opening season, the theatre was used rarely, hosting plays such as Kiss Me, Kate, South Pacific and Oklahoma!. In 1962, Segal bought the nearby Oakdale Tavern for $600,000, and also modified and modernised the theatre. With the new updates, the venue started to host regular music acts too, with performers including the likes of  Tom Jones, Paul Anka, Led Zeppelin, The Who and The Doors!
The venue continued to see renovations increasing its functionality as time went on, with the tent replaced by a wooden dome, doubling the capacity to 3,200. In the 1980s, the theatre fell into disrepair, and was sold to Robert Errato. Under pressure from the locals, who saw the theatre as an important landmark, Errato abandoned plans to turn the theatre into an office/retail space and instead renovated the venue at a cost of  $21 million. The name was changed to the Toyota Oakdale Theatre in 2009.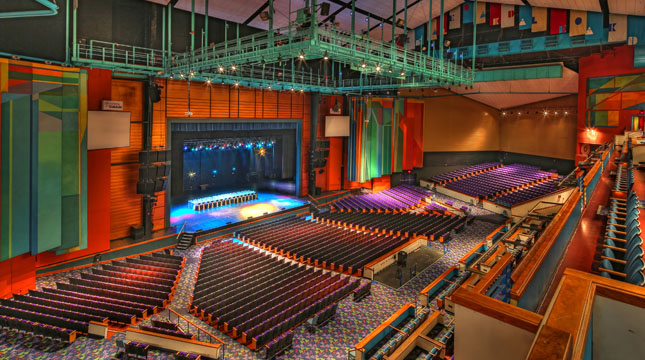 For parking information please see the Toyota Oakdale Theatre parking page.
For ticket information and information on our recommended ticket provider please see the Toyota Oakdale Theatre tickets page.
To view the seating configuration and find out about accessible seating, please see the Toyota Oakdale Theatre seating chart.