Toyota Oakdale Theatre | Wallingford, Connecticut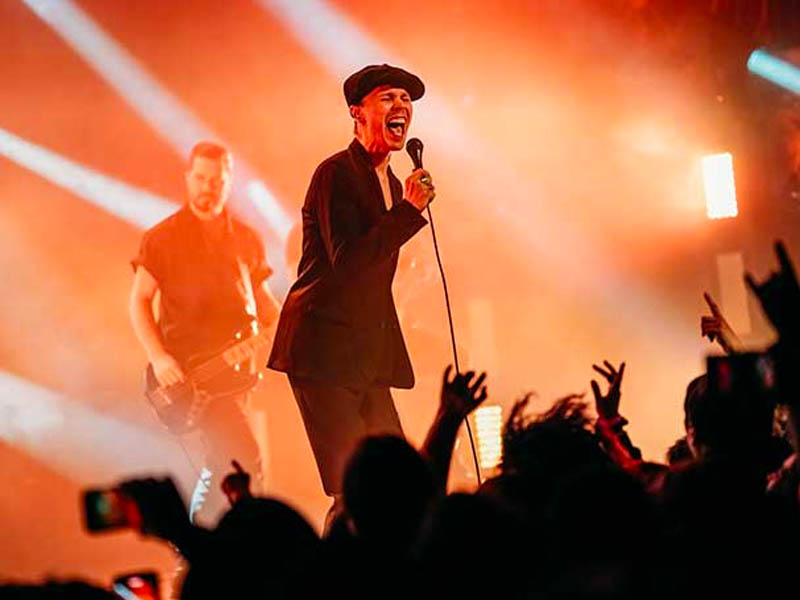 At the start of the fall season, two iconic rock acts are set to make a stop in Wallingford, Connecticut! American rock band Black Veil Brides and Finnish goth rock legend VV (Ville Vallo) are embarking on a co-headlining tour this fall, and they're covering over 30 cities in North America! This tandem is every goth lover's dream, and it's scheduled to make a coveted stop at the Toyota Oakdale Theatre in Wallingford on Friday, 22nd September 2023! Fans can look forward to Black Veil Brides' high-energy setlist packed with hits from their critically-acclaimed albums. Meanwhile, Ville Valo recently came out with his debut solo album, Neon Noir! Aside from their own solo hits, the show will definitely feature Black Veil Brides' and VV's collaboration single, "Temple of Love." If you're keen on seeing these two phenomenal acts conquer the stage at the Toyota Oakdale Center, you better hurry and secure your tickets now!
Black Veil Brides have been killing it lately with their phenomenal studio releases. The band released their latest album, The Phantom Tomorrow, last 2021. The effort spawned two Billboard Mainstream charting hits, "Scarlet Cross" and "Crimson Skies." This 2023, the band is highly likely to perform a hefty amount of hits from their recent releases. Last year, the band also produced an EP, The Mourning, featuring the single "Savior II." The band's culminated spring run in the U.K. covered numerous staples, including "Coffin" from the Rebels EP, some older songs like "Rebel Love Song" from Set the World on Fire, "I Am Bulletproof," and "In the End," from Wretched and Divine. Songs from recently dropped albums like Vale were also on the setlist.
Black Veil Brides rose to prominence in 2013 during the release of their third album, Wretched and Divine: The Story of the Wild Ones. The album was their first effort to enter the Top 10 on the Billboard 200. It also spawned the band's best-selling hit single, "In the End."
In the summer of 2023, Black Veil Brides dropped a new single, "Temple of Love," featuring Finnish goth rock legend Ville Valo. The singer has established himself as one of the leading purveyors of goth rock with his band HIM. Ville Valo, who goes by the pseudonym VV, is famous for his distinct baritone voice that works well with his melancholic and dark lyrics. Since emerging in the early '90s in Helsinki's rock scene, HIM has become the country's most commercially successful music export. After the band's dissolution in 2017, Valo moved on to pursue a solo career.
His string of highly-anticipated dates this 2023 featured several iconic songs from the band, such as "Killing Loneliness," "Right Here in My Arms," "Buried Alive by Love," "The Funeral of Hearts," and many more. Valo is also promoting his debut solo album, Neon Noir. Fans can anticipate a plethora of new staples, such as "Loveletting," "Neon Noir," "Echolocate Your Love," and "Runaway from the Sun," among others.
Catch these fantastic performances from Black Veil Brides and VV at the Toyota Oakdale Theatre on Friday, 22nd September 2023! This co-headlining tour is considered a very rare tandem, so hurry and secure your tickets now before it's too late!