Toyota Oakdale Theatre | Wallingford, Connecticut
It's time to call the little ones as the cheeky little dog, Bluey, takes over the live stage at Bluey's Big Play happening live at Toyota Oakdale Theatre on Sunday, 26th of March 2023. The live-stage musical based on the Emmy Award-winning children's animated series, Bluey, is set to take the whole family on a fantastic time to sing, dance, laugh, and jump with the Heelers! Promising a new storyline featuring new songs and games to play along with, Bluey's Big Play is the ultimate bonding experience for the whole family. So, save your seats by booking your tickets now, and get ready to surprise the kiddos!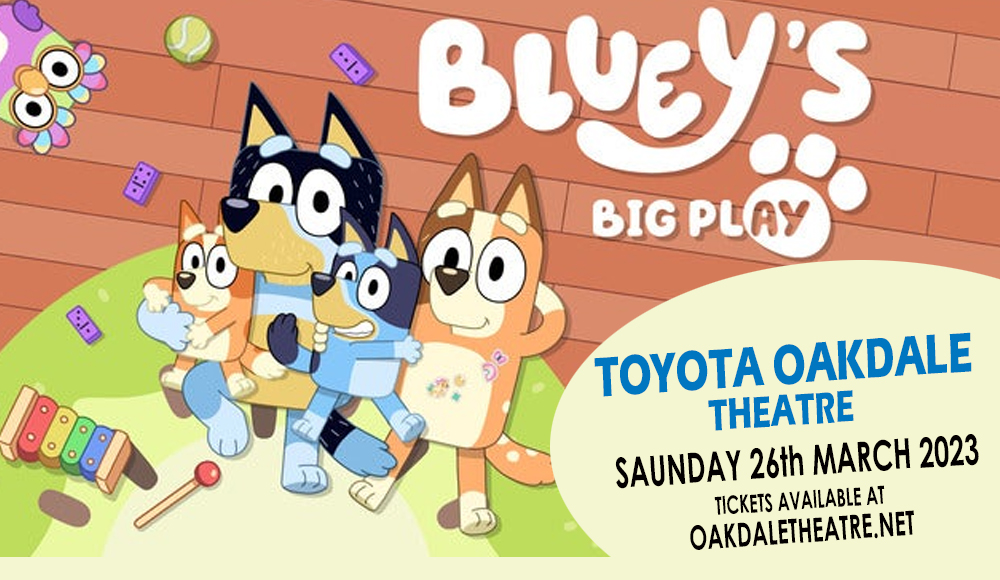 Performing over four hundred shows across sixty-five venues in its home in Australia, Bluey has sung, danced, and played around with thousands of little ones and their families. With a successful tour run, the Heelers are set to take Bluey's Big Play to live theatres in the US. As Bluey goes international, producers are excited to bring the Bluey experience for little ones across the world.
"We continue to be amazed by the reaction this first national tour of 'Bluey's Big Play' is getting from markets across the country," shared representative Craig Boleman. "Family audiences from coast-to-coast, and all points in between, can't wait for this show."
Bluey's Big Play proudly features a new storyline and new music from Bluey creator Joe Brumm and Blue composer Joff Bush. With new adventures from Bluey and the Heelers, the little ones are in for treat as they join the cast on a fun-filled escapade to Bluey's world live on stage.
From TV and mobile screens, Bluey's finally coming out to the live stage and BBC Studios and Andrew Kay with Windmill Theatre Co. are looking forward to a successful run after its overwhelmingly positive response from its live national tour in Australia. Rosemary Myers from Windmill Theatre Co. shares that they're "delighted to bring this standout live theater show to U.S. audiences… We know how much love there is out there for Bluey and are thrilled and honored to translate these brilliant characters into the three-dimensional world and to share this special experience with fans throughout America."
You can't miss out on this chance to let your kids meet their favorite cheeky little dog live on stage at Bluey's Big Play happening live at oyota Oakdale Theatre on March 26, 2023. Book those tickets now!