Toyota Oakdale Theatre | Wallingford, Connecticut
The Emmy-winning Australian series, BLUEY, is back on the stage! Catch the Heeler family live onstage for Bluey's Big Play. Get ready for an unforgettable night of singing, dancing, and so much fun.
Kids and families from all over the world know Bluey and the Wheeler family – we're sure not a day passes by when you don't have Bluey on your TV screens! As entertaining as Bluey is for children, parents love the show just as much. This is because of how the show accurately captures family life, introduces new games, and sparks conversations.
Now the Heeler family is coming to a stage near you, and you don't want to miss this. This is the perfect family bonding time!
Watch Bluey's Big Play at the Toyota Oakdale Theatre on Sunday, the 5th of November, 2023. Buy your tickets now to save seats for all of you. Click on "GET TICKETS" to make your purchase!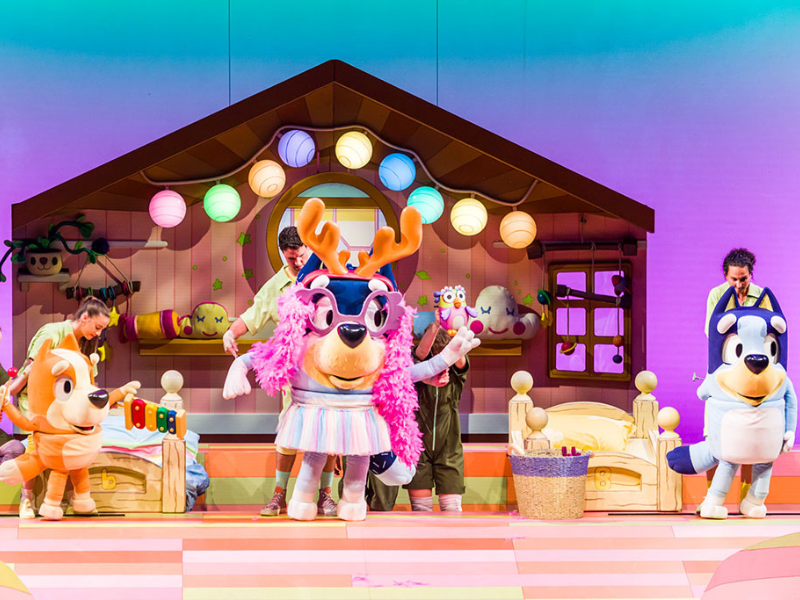 If you're one of the parents with kids who can't get enough of the Emmy-winning Australian series Bluey, then we have good news for you! Bluey's Big Play is back and better than ever. Featuring Bluey, Bingo, Chilli, and Bandit as larger-than-life puppets, this is definitely a unique experience to enjoy with the family. The show runs for around 55 minutes, 6x longer than a single Bluey episode!
Seeing Bluey and his family as giant puppets is definitely a unique experience for the whole family. Each puppet requires at least one puppeteer to operate their facial expressions (eyes and eyebrows) and arms, while at times, a second puppeteer is needed for actions that control their legs and tails or to add and remove props from the puppet's hands. The backdrop is designed to limit the exposure of the second puppeteers who go in and out of the stage.
The stage show is based on an original new story written by Bluey creator Joe Brumm; Bluey's Big Play. The show also contains new music by Bluey composer Joff Bush. The show comprises larger-than-life puppets performed to a pre-recorded audio track by the vocal cast, which includes the unmistakable Dave McCormack and Melanie Zanetti as Bandit and Chilli Heeler, as well as the humorous Bluey and Bingo (whose voices have never been attributed). This piece, directed by Windmill Theatre's multi-award-winning artistic director Rosemary Myers (Girl Asleep, The Wizard of Oz, Pinocchio), and created by Jonathon Oxlade, is more than just an extended episode of Bluey; it elevates the material and encourages us all to play with the Heelers.
It's time to meet the much-loved and highly adored Heeler family! Alert the grannies because Bluey's Big Play is headed to the Toyota Oakdale Theatre on Sunday, the 5th of November, 2023. They hope you can make it in time to have a fun adventure and spend time with the Heelers.
Click on "GET TICKETS" to save seats for every person in the family. This is your only chance to finally meet Bluey, Bingo, Chilli, and Bandit.