Toyota Oakdale Theatre | Wallingford, Connecticut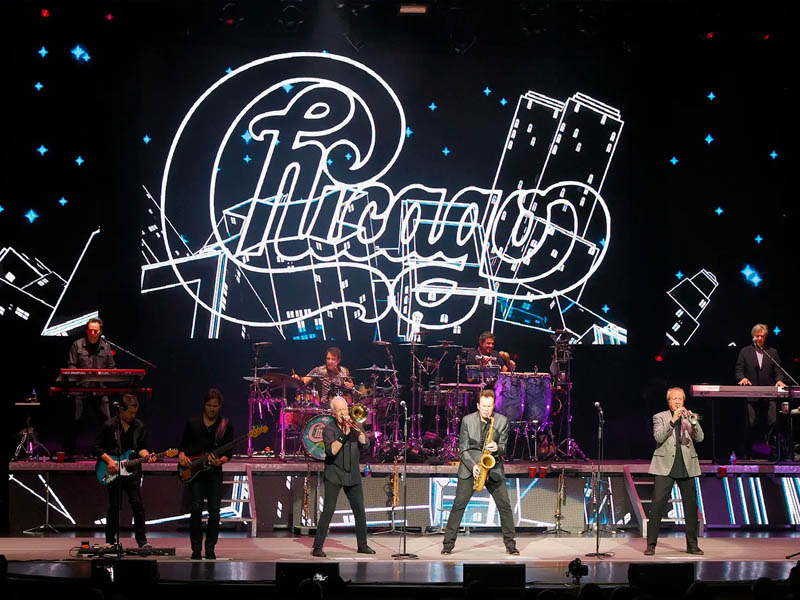 This fall, it's time for rock and roll to take center stage because the multi-award-winning band, Chicago, will be hitting the road! That's right! The Rock and Roll Hall of Famers and Grammy Lifetime Achievement Awardees responsible for unprecedented timeless rock hits will be circling the nation to deliver fans some exciting concerts! These new tour dates will kick off in the summer and extended all the way to fall - covering over 30 shows across the U.S., to be exact! Lucky for fans in Connecticut, the legendary band will be making their way to Wallingford on Sunday, 12th November 2023! Get ready for some incredible rock hits, such as "You're the Inspiration," "Hard to Say I'm Sorry," "Colour my World," "Hard Habit to Break," and many more! If you're keen on seeing one of the greatest rock bands of all time, you better secure tickets to their show at the Toyota Oakdale Theatre by clicking on the Get Tickets link!
There is no question that Chicago is one of the greatest rock bands in music history. The multi-award-winning group basically conquered decades with their iconic hits. Having produced a range of rock and roll tracks, ballads, soft rock staples, and experimental numbers, the band possessed great versatility and incredible compositions. Most of their hits, produced and released over two decades ago, remain top sellers and continue to clock in hundreds of millions of streams. With over 100 million records sold (40 million of which were sold in the U.S.), Chicago is recorded as one of the most commercially successful and best-selling bands of all time.
Every Chicago concert never fails to impress the crowd, They are well into their 56th year in music, but the group remains one of the most prolific performers around the world. This 2023 alone, Chicago is set to perform 36 shows in North America. Meanwhile, their outstanding performances are sure to include countless crowd pleasers, such as "You're the Inspiration," "Hard Habit to Break," "Hard to Say I'm Sorry," "25 or 6 to 4," "Saturday in the Park," and more. The band's career-spanning hits covers come from their 26-album catalog. Fans are guaranteed to have an ecstatic time enjoying this lengthy setlist. Moreover, the band's amazing musicianship and tenure in live music make them one of the most entertaining groups in the world! If you love classic rock, you should really include Chicago's 2023 tour on your bucket list!
Emerging from Chicago in 1967, the band moved on to become one of the biggest bands in the world. Their music includes several influences ranging from classical music to pop, rock, and R&B. The original line-up comprising Peter Cetera, Terry Kath, Robert Lamm, Lee Loughnane, Watler Parazaider, and Danny Seraphine, released the band's self-titled debut album in 1969. The effort became an instant commercial success, entering the U.S. Billboard 200, as well as charts in several other countries.
Beginning in 1972, the band reached number 1 five times in a row with their studio and compilation releases. In 1975, the first compilation album, Chicago IX: Chicago's Greatest Hits, sold over five million copies in the U.S. Their next best-selling compilation, Greatest Hits 1982 -1989, was released 17 years later.
In 1984, the band dropped their best-selling effort, Chicago 17. The album sold over six million copies in the U.S. By this time, the band was already belting out soft rock staples. Chicago 17 was known for spawning the hits "Stay the Night," "Hard Habit to Break," "You're the Inspiration," and "Along Comes a Woman."
Catch Chicago this fall by securing tickets to their show at the Toyota Oakdale Theatre on Sunday, 12th November 2023! Tickets are now available!