Toyota Oakdale Theatre | Wallingford, Connecticut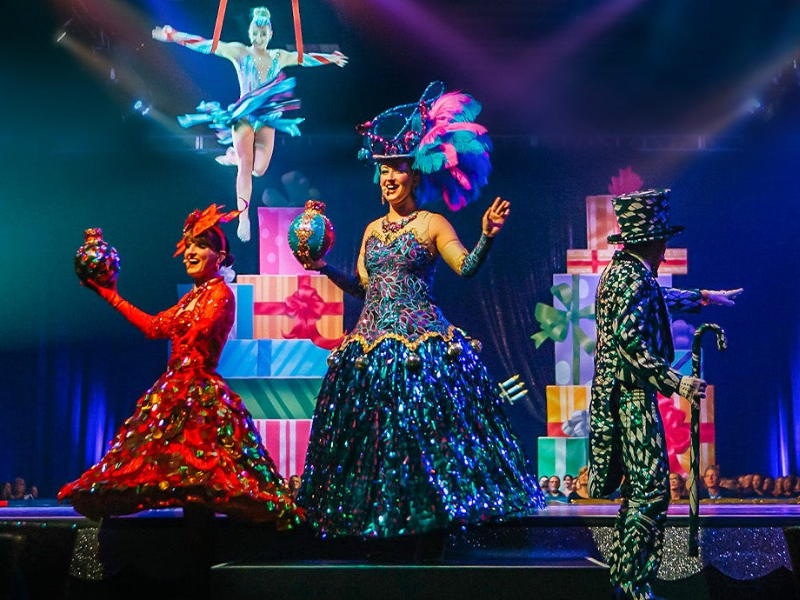 Embrace the enchanting chill of the jingle bell season on December 9 as Cirque Dreams: Holidaze lands onstage at the Toyota Oakdale Theatre! 30 years since its founding, Neil Goldberg's Cirque Dreams has stolen the attention of millions of wide-eyed audiences across the world. Now, it's time again for 90 minutes of its yearly yuletide extravaganza! Watch nutcrackers and gingerbread men come to life as the Cirque Dreams troupe whisks you away into a festive winter wonderland. This Broadway-style show with contemporary circus will have you gaping in childlike wonder as hoards of iconic holiday characters sling and sail and soar through the air! With friendly staff and cozy seats, the Toyota Oakdale Theatre offers a homey viewing experience for this one-of-a-kind event. Give yourself and your family an early gift and watch the snowy season come alive in Cirque Dreams: Holidaze. Buy tickets now to see the act on Saturday, December 9, 2023 at the Toyota Oakdale Theatre!
Prepare your eyes and ears for this seasonal splendor of song, music, and astonishing aerial artistry. Cirque Dreams: Holidaze is visiting Wallingford, Connecticut on the 9th of December at the Toyota Oakdale Theatre!
Carrying on with its 30-year run in the spotlight, Neil Goldberg's fantabulous franchise is back again to spread more gravity-defying holiday cheer! With over 300 colorful costumes worn throughout a 90-minute production, Cirque Dream: Holidaze combines Broadway flair with daring Cirque spectacle!
Marvel at legions of classic holiday characters as they're brought to life in an imaginative show chock full of vibrance. Gingerbread men and toy soldiers. Ballerinas and jugglers. Acrobats and contortionists. Penguins and reindeer. And many more! Watch them perform jubilant song and dance numbers to the soundscape of an instrumental score and traditional carols. Meanwhile, mid-air maneuvers and heart-stopping stunts will have you right at the edge of your seat. It's pure circus magic through and through!
In a previous interview with producer-director Neil Goldberg, we get a lovely glimpse of the inspiration behind the breathtaking event.
"You know how some people collect t-shirts and hats and magnets from their travels, my thing was ornaments… The ornaments were actually the inspiration for all of the costumes in the show… So if there was an ornament that was an angel then it would inspire me to go and find an aerialist and put together a scene that was flying. If there was an ornament that was a candy cane, that would inspire me to go find a contortionist, so that the candy can twist and bend."
Cirque Dreams will be performing at Connecticut's highly acclaimed Toyota Oakdale Theatre. The venue features a spacious layout, fantastic acoustics, and a helpful staff that will ensure the BEST viewing experience for you and your family.
Head out and book your tickets now! Witness THE holiday event of the year, LIVE at the Toyota Oakdale Theatre on Saturday, December 9, 2023. It's Cirque Dreams: Holidaze! We'll see you there!