Toyota Oakdale Theatre | Wallingford, Connecticut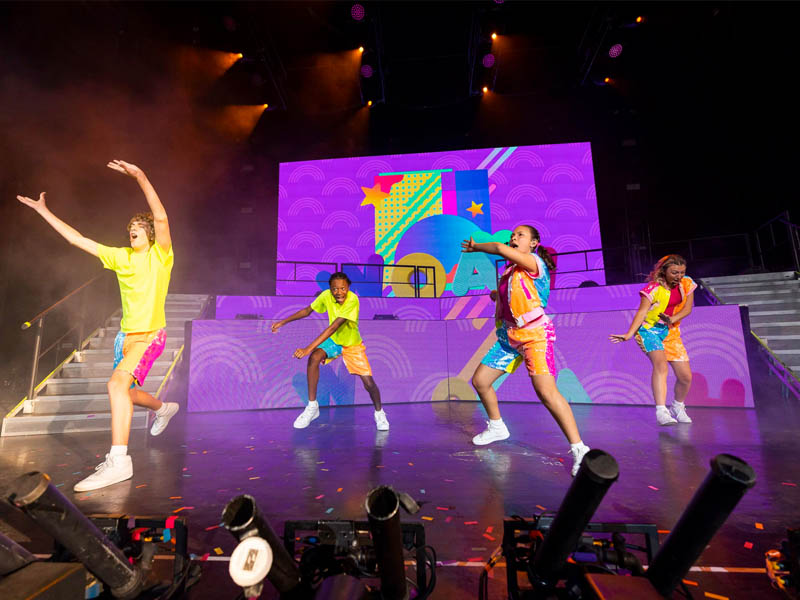 It's your kids' turn to dance and rock along to phenomenal live music! Why not? They deserve a treat every now and then! Liven up their spirits, hearts, and minds with the amazing Kidz Bop Live - Never Stop Live Tour! The traveling children's music group will bring their incredible pop hits across the U.S. this upcoming fall season, and it's set to be the most highly-anticipated kids' spectacle of the year! Join Cami, Cliff, Giavanni, Ivan, and the rest of the Kidz Bop kids as they light up the Toyota Oakdale Theatre! This coveted stop in Wallingford, Connecticut, on Sunday, 19th November 2023, promises to deliver all your favorite 2023 hits, including "Old Town Road," "good 4 u," "Butter," "Dance Monkey," and more! The best thing about Kidz Bop Live is all the songs are specially re-written to make all the lyrics kid-friendly! So have a worry-free family bonding experience this November by bringing your kids to the fantastic kid's concert, the Kidz Bop Live, at the Toyota Oakdale Theatre! Secure your tickets now by clicking on the Get Tickets link!
Do your kids love pop music? If they do, then you can let them enjoy a high-energy pop spectacle specially created for kids! Kidz Bop Live featuring the incredible Kidz Bop kids will feature family-friendly versions of today's biggest pop hits! Imagine 2023's current Billboard Hot 100 staples but without the profanity and suggestive language! Yes, it's true! Your kids can now dance and sing along to the latest hits without worrying about adult themes. The Kidz Bop Live will feature a fantastic North American cast composed of Cami, Cliff, Giavanni, Ivan, Jackson, Kiya, Peter, Savvy, Shila, and Tyler. These talented kids have prepared a high-energy setlist for the upcoming fall tour. The songs are guaranteed to have your kids singing and dancing along to the beat!
The outing, titled Never Stop Live Tour, makes its phenomenal return with incredible hits, such as "Antihero," "As It Was," "CUFF It," and more. The tour promises the ultimate pop concert that both kids and parents will enjoy. This is your chance to build great memories with your kids and give them an experience that they will cherish for a lifetime! Kicking off in September, the fall tour will drop by 22 cities this fall. Lucky for fans in Connecticut, Kidz Bop Live will make a coveted stop in Wallingford. Get ready for the most amazing live spectacle at the Toyota Oakdale Theatre on Sunday, 19th November 2023!
Kidz Bop is a music brand that launched in 2001. The brand is composed of talented kids who sing children-friendly versions of contemporary pop hits. The songs are picked out from the Billboard Hot 100, and their lyrics are re-written to remove profanity, suggestive lyrics, and adult themes. The brand was developed by Razor & Tie founders Cliff Chenfeld and Craig Balsam. Since launching Kidz Bop, the brand has sold over 20 million albums worldwide and clocked in over five billion streams. Moreover, Kidz Bop's studio albums have consistently topped Billboard's Kids' Albums chart.
Kidz Bop Live was launched in 2014. The Dream Big, Sing Loud Tour visited over 40 cities and performed in major markets, including New York, Los Angeles, and Chicago. To this day, the tour is an ongoing spectacle that attracts thousands upon thousands of families. This 2023, the Never Stop Live Tour is anticipated to be the most exciting kids' music spectacle of the year!
Score tickets now to see Kidz Bop Live at the Toyota Oakdale Theater! Tickets to the show on Sunday, 19th November 2023, can now be purchased through the Get Tickets link!