Toyota Oakdale Theatre | Wallingford, Connecticut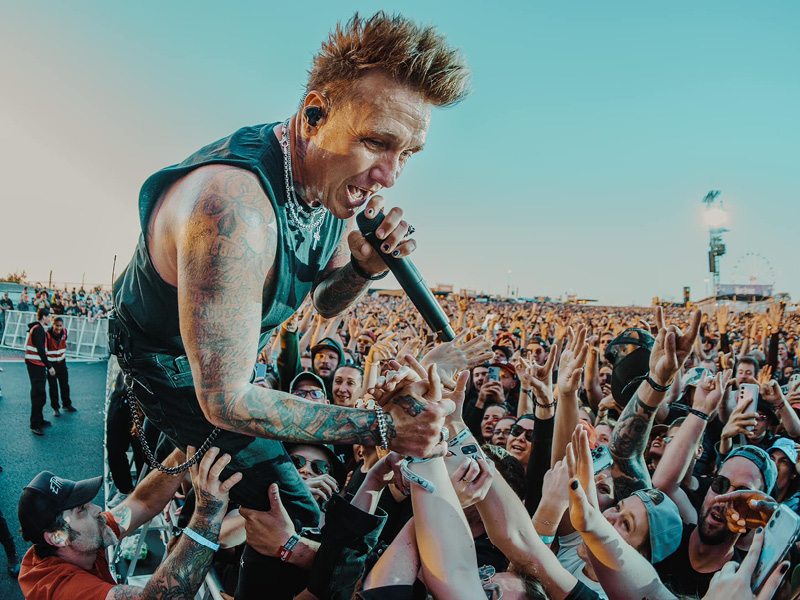 Cutting your life into pieces, this is your final chance, to see this awesome band live, in Connecticut since the band last appeared here in 2015!!! Papa Roach will be playing at Toyota Oakdale Theatre along with their current tour partners Spiritbox, on Saturday, September 16th 2023.
The rhythm-and-riming alt-metalers will be pulling into Wallingford as part of their limited tour with Canadian hard-hitting heavy metal band Spiritbox, this is an extension of their tour, that the bands have chosen to do outside their tour with Shinedown. While Papa Roach haven't played here in a while, Spiritbox last performed right here in Oakdale last March as an opening band for Underoath. So, right now, "Stand Up," and grab some tickets right now, there's no need to "Cut The Line." You can get your tickets right here and get to hear some of Papa Roach's brand-new album, Ego Trip, live and loud!
Way back in time, to the very early 90s, 1993 in fact, Papa Roach's very rocky start began when lead singer Jacoby Shaddix, drummer Dave Buckner, lead guitarist Jerry Horton, rhythm guitarist Anne Mikolajcik, trombonist Ben Luther and bassist Will James all decided to enter the Vacaville High School talent show, performing a version of Jimi Hendrix's song "Fire" … and they absolutely sucked!!!
Undeterred by their loss, and after many, many line-up changes, the band released their first EP, Potatoes for Christmas, in 1994. And in 1995, they released a demo at Sound Farm Studios, Caca Bonita. While touring heavily in support of such bands as Incubus, Powerman 5000, Hed PE, Snot, Far, and Static-X. Papa Roach were slowly gathering an avid fan base around them, and by early 97, finally produced their debut studio album, Old Friends from Young Years.
With the release of, 5 Tracks Deep, in 98 and, Let 'Em Know, in 99 the band had finally hit onto a successful sound and introduced to Warner Music Group to produce a demo. However, Warner Bros. were ultimately unimpressed with the demo, and elected not to sign them… the unreleased demo is rumored to contain the tracks, "Infest", "Last Resort", "Broken Home", "Dead Cell", and "She Loves Me Not".
By late 1999, DreamWorks Records would offer the band a recording contract, and Papa Roach finally got to produce the worldwide smash success, Infest, in 2000. The album went triple-platinum, and became the 20th highest-selling album of 2000 in the USA. The band followed it with the gold album, Lovehatetragedy, in 2002 and the platinum album, Getting Away with Murder, in 2004. The Paramour Sessions, in 2007, Metamorphosis in 2009, Time for Annihilation, in 2010, The Connection in 2012, F.E.A.R., in 2015, Crooked Teeth in 2017, and Who Do You Trust? In 2019. And finally, their eleventh studio album, Ego Trip, was released in April 2022.
Papa Roach's, Ego Trip, is the band's eleventh studio album and features the five singles; "Swerve", "Kill the Noise", "Stand Up", "Cut the Line", and "No Apologies". It charted in the Top 40 in three countries, Germany, Scotland and Switzerland, while making it to the 115th spot on the Billboard 200.