Toyota Oakdale Theatre | Wallingford, Connecticut
Rain: A Tribute to The Beatles comes to Toyota Oakdale Theatre on Friday, April 28th, 2023. The band will be recreating, for your listening delight, songs from Abbey Road and the Rooftop Concert LIVE, in addition to all your favorites hits. This mind-blowing performance takes you back in time with the legendary foursome delivering a note-for-note, word for word, theatrical event that is the next best thing to seeing the Beatles. So get your tickets and come back to where you once belonged!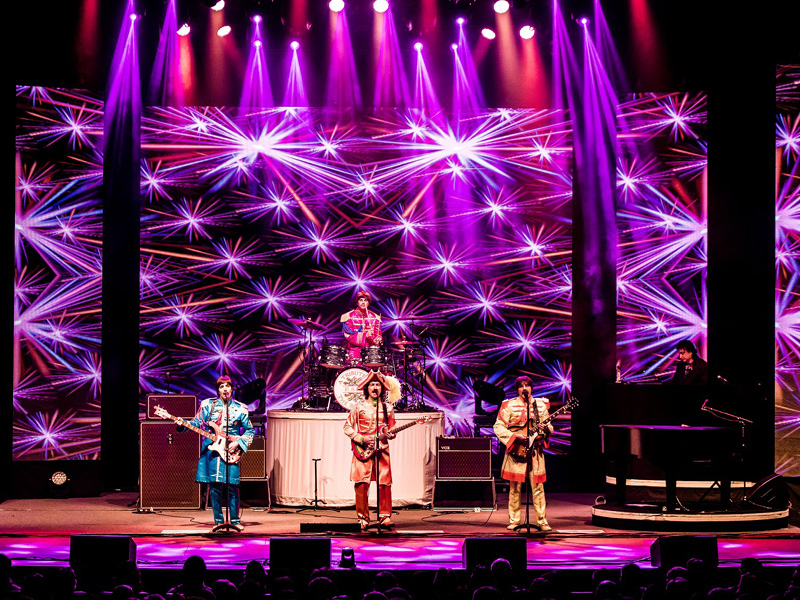 Rain / Reign began in 1975 as a reference to the 1966 Beatles single "Rain," the B-side of "Paperback Writer", and the band played both original music and Beatles covers. Ran performed mainly on the road until 2001, when the Rain Corporation took over management of the band.
In 2005, the management developed the show into a Broadway-style production in the similar style as the 1977's Beatlemania. Approximately 30 songs are performed in the show, a rough chronological history of The Beatles through their music. There is very little dialogue during the production, other than some onstage banter, consisting mainly of renditions of some of the Beatles' original music. The show opens with four actors portraying early versions of The Beatles' performing in the Cavern Club in 1962. When this scene closes, The Beatles then journey to America, beginning their tour at The Ed Sullivan Show. As the time-lapse production progresses, The Beatles' performances and music are changing, while their band grows in popularity, culminating with their performance at their largest concert in New York City's Shea Stadium. Hallucinatory and psychedelic scenes are superimposed to bring in their increasing use and experimentation with substances and Eastern philosophies. The show culminates with the breakup of the group towards the end of the 1960s.